" It met all my expectations and confirmed the excellent reviews I had read. Spacious and fully equipped rooms, comfortable beds and pillows, clean and with a good and adequate breakfast. Good views of the sea and near a shopping centre and restaurants."
Angasa G – TripAdvisor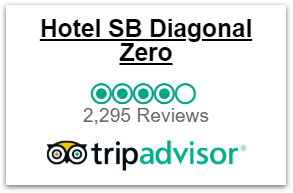 SB Diagonal Zero ****
Superior
The unforgettable experience of enjoying Barcelona, more than ever before
Stay by the beach, with all of the Barcelona city's leisure and cultural experience, a stone's throw away. Next to the International Conventions Centre (CCIB), the Forum auditorium and the Diagonal Mar shopping centre. You will always want to come back.
Enjoy the views to the sea or to Barcelona. Choose: 262 rooms of maximum comfort for a business trip or a holiday with your partner or family in our Deluxe rooms, Jacuzzi Suites, Triple and Family Rooms, Executive rooms or Suites 15th Lounge. Unwind: Relax and get get fit in our exclusive spa "Spazio Wellness" or enjoy a swim with panoramic views on our 17th floor swimming pool. Discover "The 15th Lounge" and the VIP floor with personalised services and unique views of Barcelona.
Spa will be closed until new notice
Mediterranean Urban Concept
Feel more
Giving you much more than a good urban hotel. Handing you the keys to the cosiest and most creative atmospheres. Believing that you, your relations, your humanity and your feelings are our real guests.
The Hotel